SEARCH the
Gentian Research Network
and Rutgers University:
GENTIANS
Classification (newest)
List of genera
List by tribe
Gentian characteristics
Gentianales
RESEARCH
Research projects
People, addresses
Literature, publications
Links
Add info to this site
TOPICS
Anatomy
Common names
Ecology - Natural history
GEOGRAPHY
Floras
Latin America
North America
TRIBES
Saccifolieae
_____________________

Information in other languages:
_____________________
This page is maintained
by Dr. Lena Struwe
(e-mail), and hosted by
Rutgers University, USA
updated: 01/19/11
Gentiana autumnalis
(Gentianaceae: Gentianeae: Gentianinae: Gentiana autumnalis)




Common name:

Pine Barren Gentian

This species shows unusual variation in corolla patterning and petal number (4-7) within a single population. Some corollas are white, most are blue, a few purplish and they are sometimes patterned with stripes or dots in white, yellow, or purple.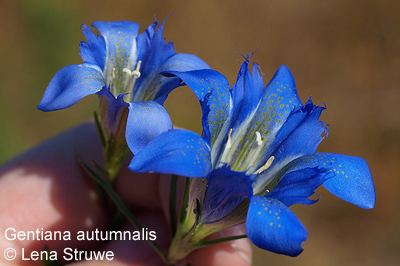 Flower morphological variation in one population of Gentiana autumnalis in New Jersey, USA.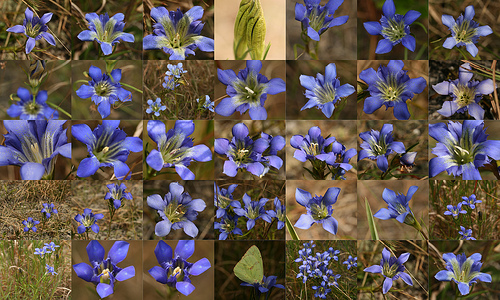 ©

Uli Lorimer. Larger version can be seen here on Flickr)


References and publications:


Text: © Lena Struwe, 2011
All photos and drawings are copyrighted by the photographer, artist, or publisher - if you want to use them for any purpose you need to get permission for each image. Contact the source directly. Gentian Research Network does not give out permission for use of photos posted on this site.